Summer trading hours – Open Monday, Thursday, Friday 10:00 - 5:30, Saturday & Sunday 10:00 - 5:00, closed Tuesday & Wednesday
Nikwax Glove Proof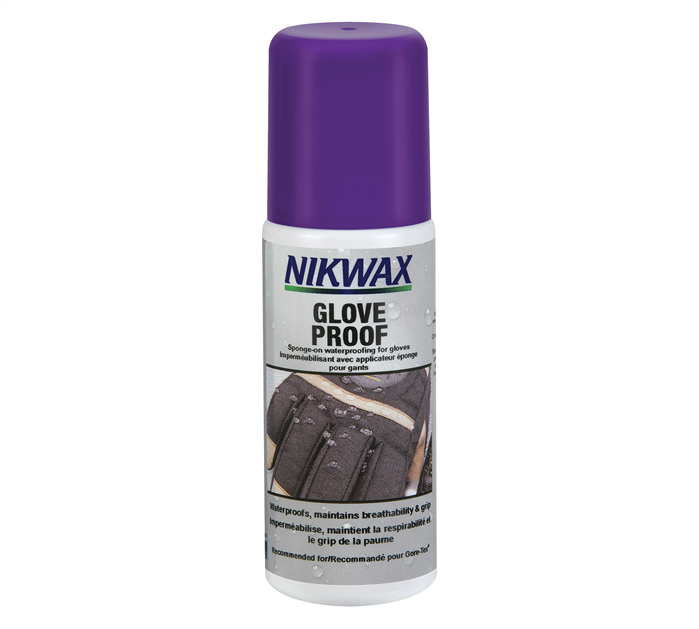 Nikwax Glove Proof
Sponge-on waterproofing
Waterproofs, maintains breathability and grip
Benefits of using this product:
Adds water repellency
Prolongs life and performance of all leather and fabric gloves
Ideal for gloves with breathable membranes e.g. Gore-Tex
Maintains breathability
Maintains palm grip
Conditions leather replacing tanning agents in leather gloves
Can be applied to wet or dry gloves
Easy to apply - can be used indoors unlike solvent sprays
WaterBased - environmentally friendly, biodegradable, non flammable, non hazardous
Does not contain fluorocarbons
Guaranteed performance for 4 years from manufacture
Ideal for:
Leather, fabric, combination or padded gloves
(for fleece gloves, use Nikwax Polar Proof)
How to apply:
Rinse off any surplus dirt with clean water
Press sponge applicator to break seal
Spread evenly, paying attention to seams and stitching
Wait 5 minutes
Wipe away excess with a damp cloth.
When to use this product:
Always apply this product to new and used gloves to keep them in perfect condition. Remember to clean fabric and insulated gloves first with Nikwax Tech Wash and Nikwax Leather Cleaner for leather gloves.