Summer trading hours – Open Monday, Thursday, Friday 10:00 - 5:30, Saturday & Sunday 10:00 - 5:00, closed Tuesday & Wednesday
Nikwax Tech Wash + Direct Spray-On
Nikwax Tech Wash + Direct Spray-on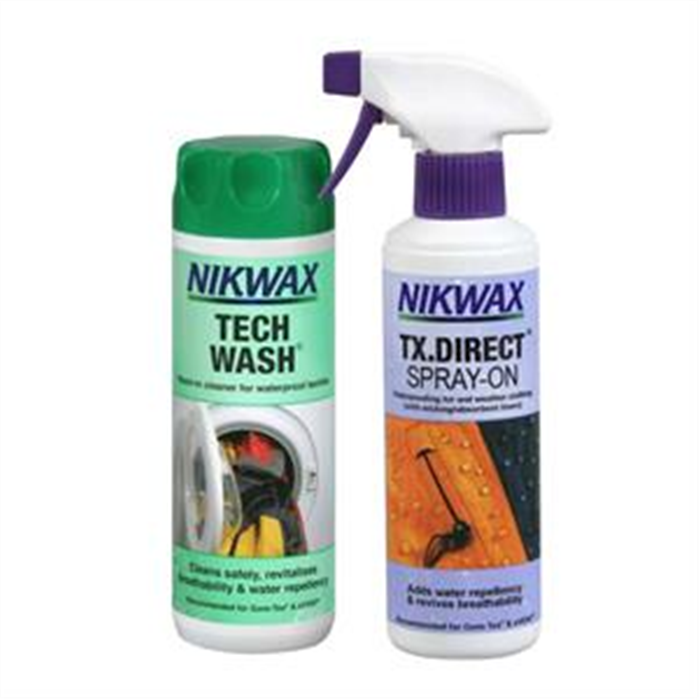 Nikwax Tech Wash + Direct Spray-on
Nikwax TX.Direct Spray:

Nikwax TX.Direct Spray-On is easy and quick to apply, and its highly Durable Water Repellency (DWR) develops on air drying. The need for tumble drying is removed, saving energy and protects more vulnerable, older, garments from heat.
Nikwax TX.Direct Spray-On has been specifically designed and optimised for breathable waterproof garments. It leaves a flexible water repellent treatment on individual fibres allowing moisture vapour to pass through, maintaining breathability. The spray-on application allows for direct treatment of areas which require it most (e.g. elbows and seams on jackets) and will not compromise the properties of internal wicking liners.
Features:
Spray on waterproofing for wet weather clothing (with wicking/absorbent liners)
Adds water repellency and revives breathability
Perfect for Gore-Tex and Event garments
300 Spray-on bottle
Nikwax Tech Wash:

Nikwax Tech Wash is a highly effective cleaner. This wash us a highly effective cleaner. Additionally it will revitalise existing Durable Water Repellency (DWR) and revive breathability. It is the safe way to thoroughly clean your waterproof clothing and equipment.
Application in a washing machine is quick, easy, and ensures that the whole garment is thoroughly cleaned.
Features:
Wash in cleaner for waterproof textiles
Cleans safely, revitalises breathability and water repellency
Recommended for Gore-Tex, SympaTex, eVENT, permatex and Nikwax Analogy fabrics
Perfect for waterproof clothing, tents, awnings, rucksacks and panniers
300ml bottle

Nikwax Tech Wash + Direct Spray-On Reviews
Write Review
---
There are not yet any reviews on this product.